2012 - 2013 Meeting Schedule

Rhode Island Sewing Network meetings provide a social and educational forum for individuals
to get together. Whether you are a professional or hobby sewer, you are sure to meet some very interesting
people and learn something new, too!
October 2, 2012
Lyn Weeks
At our first meeting of the year, Lyn Weeks will treat us to a trunk show of her beautiful garments and discussions
about the special techniques and skills she uses to make her creations. Lyn is an accomplished heirloom sewer from Australia,
who has participated in the activities of several smocking and embroidery guilds, published articles in Australia and the United
States, designed a range of garment patterns and published a fine machine sewing manual.
November 6, 2012
Patricia Keay
Author, designer and illustrator, Patricia learned how to sew when she was only seven-years-old. Her mother's patient lessons
combined with a God-given creative streak and she's been designing and making things ever since. Patricia received a formal
education in Fine Art from the Pratt Institute and is a licensed Martha Pullen Viking and Babylock educator. She has been a regular
contributor to sewing magazines since 2002. Her articles, designs and illustrations have been featured in Threads, Sew News, Sew
Beautiful and Creative Needle. Patricia will give us a close up view of some of the garments shown in recent issues as well as a sneak
preview of one that will be featured in an upcoming article.
December 4, 2012
Jennifer Stern Haseman
Jennifer is an instructor on patternreview.com and in the fashion department at Sanford-Brown College in Connecticut. She has
designed a line of fashion patterns including her famous jeans pattern (which is now a Master Seamstress II class!) Jennifer often travels
around the country teaching workshops on pattern fitting, construction techniques and design. Join us to see how Jen can help
you fit the perfect pair of pants!
March 5, 2013
Sondra Celli
An EXTRAORDINARY woman creating UNCOMMON Couture Internationally renowned and award-winning designer, Sondra Celli,
has been making clothes since she was a teenager. A graduate of the Fashion Institute of Technology, Sondra had the benefit
of landing apprenticeships in Europe and Asia at some of the most prestigious "houses of style" in the fashion industry. In 1984,
Sondra established The Sondra Celli Company designing uncommon couture for infants, children, and women of all shapes and sizes.
Sondra Celli's designs have received major media attention in such publications as; Vogue, Town & Country, Harper's Bazaar, New
York Magazine, New York Times, The Boston Globe, The Huffington Post, and been featured on TLC's hit series, "My Big Fat American
Gypsy Wedding." At the March RISN meeting, Sondra will discuss how her "passion for fashion" began, finding her "niche" market
and starting a business, the process of creating and the basics and business of "bling."
April 2, 2013
Meg DeCubellis
RISN is pleased to welcome Rhode Island School of Design instructor and "Illuminite" owner, Meg DeCubellis. Meg will be sharing
her "lifetime of design" to the group as she speaks about her experiences in design. From children's wear to active apparel, for the
past thirty years Meg's work has taken her around the world. While working for both large and small start ups, Meg will touch on the
process of design and how it has informed her current teaching at both RISD and URI.
May 7, 2013
Elsie Collins
Please join RISN as we take a look at a brief history of millinery fashion, through vintage hat samples, and original works by
artist/designer/milliner/teacher, Elsie Collins. With over 40 years of professional dressmaking and design experience, Elise began making
cut and sewn dressmaker hats in her Wayland Square shop, Samsara Designs, in Providence. She has been selling her work
worldwide on Etsy.com, for nearly four years, including her bestselling line of Peruvian inspired, hand crocheted chulla hats. She is a
master dressmaker, and teaches pattern drafting, fashion sketching, and makes silk ribbon flowers, silk ribbon embroidery, and hand
makes all her own silk organza millinery flowers. Be sure to wear your very best chapeau!!

All meetings begin at 7pm
Refreshments
We are always looking for generous members to help in providing refreshments at our meetings.
Please contact Diane Meschisen if you'd like to help out!
Items for Sale!
Any member with craft or supply items for sale is encouraged to set a table at any of our meetings.

The Greenwich Club
5426 Post Road
East Greenwich, RI 02818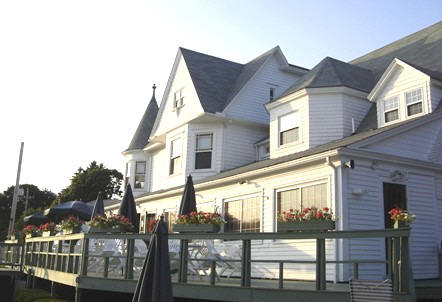 photo courtesy of The Greenwhich Club

FROM THE SOUTH
I-95 North to Exit 8A - RI 2 Quaker Lane
Take the first left onto Division Road
Continue on 1st Ave for approximately 2 miles
Turn right onto Main Street - US 1
Continue for 0.8 miles
The Greenwich Club will be on your left.
FROM THE NORTH
I-95 South to Exit 9 - RI 4 South
Take the first exit, Exit 8 - RI 401
Turn right onto Division Road
Continue on 1st Ave for approximately 2 miles
Turn right onto Main Street - US 1
Continue for 0.8 miles
The Greenwich Club will be on your left.